U.S. Energy Secretary Jennifer Granholm announced that BNNT Materials will receive $1.1MM from the Department of Energy to design and build prototype vibration dampers.
"Small businesses play a critical role in launching scientific discoveries out of our National Labs and into the hands of the American people," said Secretary of Energy Jennifer M. Granholm. "We're so excited to watch them put their entrepreneurial spirit behind these bold, exciting projects, and bring these new products and services to market. We are thrilled to support BNNT Materials in advancing its technology innovations." 
"I'm proud to know that these grants will go towards helping BNNT Materials make critical advancements in nuclear technology," said U.S. Senator Mark R. Warner. "I trust these advancements will help promote national security, while keeping Virginia on the cutting edge of innovation research. 
Partnering for US Competitiveness with DOE National Lab 
Material scientists and engineers from BNNT have joined with the Department of Energy's National Lab's Thomas Jefferson National Accelerator Facility (Jefferson Lab) to advance development and delivery of boron nitride nanotube (BNNT) materials-based vibration damping component assemblies to facilities of industry.
BNNT Materials' patented mechanism provides vibration damping from high heat to extreme cold, maintains viscoelasticity in cryogenics even near absolute zero and through repeated thermal cycles, without thermal expansion (minimal CTE). 
Once integrated into current or next-generation energy, manufacturing, military, or scientific facilities, BNNT Materials' boron nitride nanotube derived application will aid organizations in improving the efficiency, performance, and longevity of industrial infrastructure while reducing long-term costs of operation. 
SBIR & STTR Programs 
Through the SBIR/STTR program across the federal government, small business powers the U.S. economy and generates thousands of jobs, both directly and indirectly, the DOE notes. DOE Small Business Innovation Research (SBIR) and Small Business Technology Transfer (STTR) awards aim at transforming DOE-supported science and technology breakthroughs into viable products and services. The awards also support the development of specialized technologies and instruments that aid in scientific discovery. For More information, visit www.sbir.gov. 
Explore More News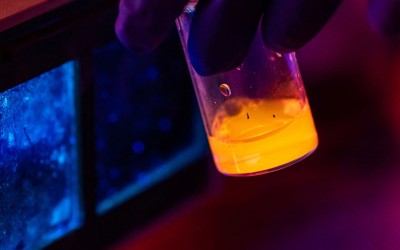 Rice University Department of Chemistry: Exotic Nanotubes Move in Less Mysterious Ways
Rice scientists, engineers analyzed the motion of single boron nitride nanotubes and show boron nitride's promise for use in composite materials and biomedical applications...