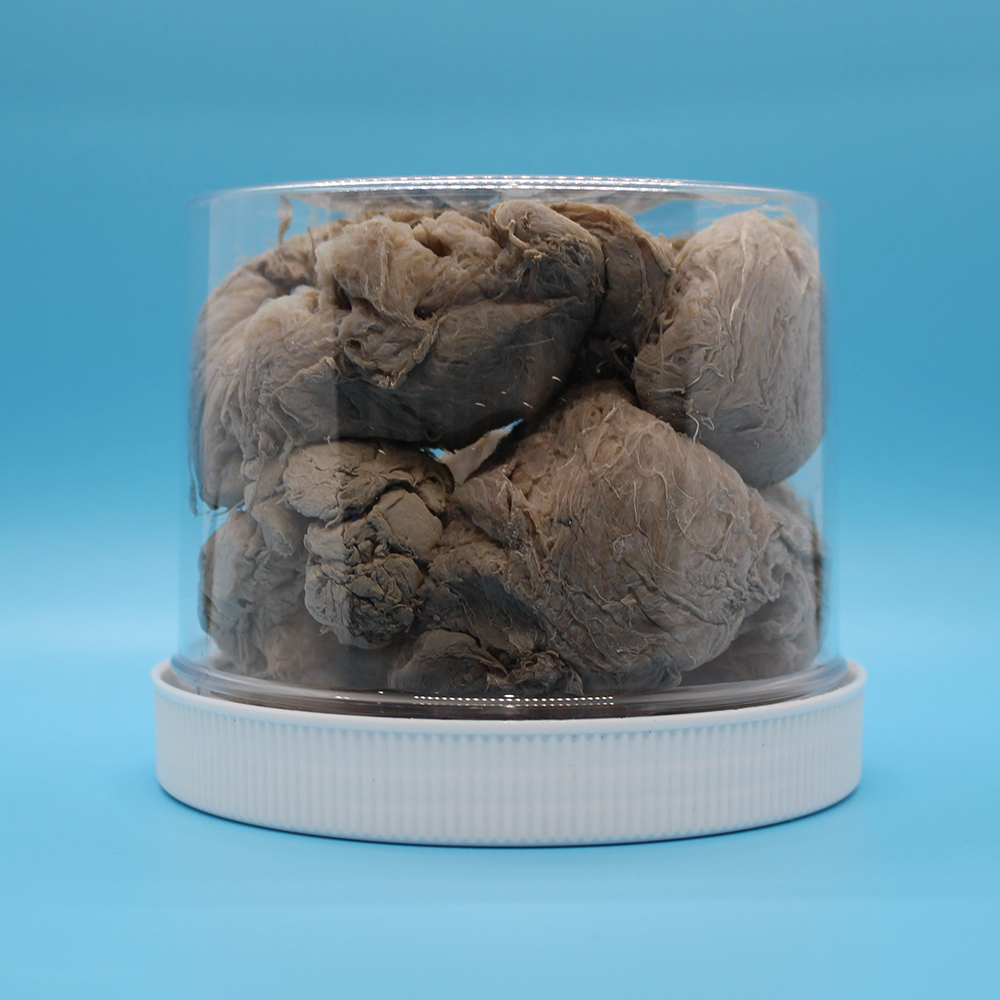 Please see fulfillment notice prior to ordering
BNNT SP10 Puffball is the as-grown boron nitride nanotube material produced from our state-of-the-art laser synthesis rigs. The nanomaterial is a cotton-like, low tap density network of mainly two and three walled nanotubes ranging from a few to 100's of microns in length. BNNT SP10's grey color is due to nanoparticles of residual boron which are a byproduct of the HTP (high temperature/pressure) synthesis method. BNNT SP10 is available in three isotope compositions and recommended for applications requiring the least post-synthesis processing.
Pricing & Fulfillment
Boron isotope
% BN content


(nanotubes, nanosheets, nanocages)

Availability
Price (USD/gram)
natural boron (~80% 11B, ~20% 10B)
50%
Immediate
700
10B-enriched (>96% 10B)
50%
Immediate
800
11B-enriched (>98% 11B)
50%
Immediate
800
| | |
| --- | --- |
| BN content | >99% (refined materials) |
| Residual Impurities | Refined materials contain <1 wt.% elemental boron |
| Tap Density | Low, ~0.25 mg/cm3 |
| Defect density | Extremely low (BNNTs flex and recover when bent) |
| Band gap | 5.7 eV (direct measurement by low energy EELS) |
| Surface area | up to 400 m2/g (by multipoint BET) |
| Network | many isolated tubes, bundles up to 5 tubes (by TEM) |
| Number of walls | 1 to 5 walls are typical, 2 or 3 walls are most common (by TEM) |
| BNNT length | up to 200 μm (by SEM), longer suspected |
Export Control: BNNT has been classified by the U.S. Department of Commerce Bureau of Industry and Security (BIS) under Export Administration Regulations (EAR) as a category EAR99 item. Consequently, BNNT can be released/sold in the United States without additional authorization to foreign nationals from most but not all countries. The material can be exported to most countries as "No License Required (NLR)" item unless the Recipient or End User is restricted for EAR99 items. See lists under Export Control Restrictions and Lists.
Export Control Restrictions & Lists
For deemed export restrictions for shipments of BNNT within the U.S. see: Controlled "use" technology Question (4): Is there a deemed export license requirement for EAR99 technology? and Fundamental Research Question (1).

For export outside of the U.S. if the Recipient or End User is on the following list, an export license is required and BNNT, LLC will send a form for additional required information to complete the export control license application:
BNNT (Boron Nitride Nanotubes) are nanomaterials. All handling, processing, shipping, receiving and transportation of the material must meet all U.S. Department of Transportation and U.S. Environmental Protection Agency (EPA) regulations as well as end user country requirements as applicable.
From discussions with the U.S. EPA, BNNT should be treated as nanomaterials in an R&D phase, i.e. no special approvals are required. Customers should employ safety processes appropriate for born nitride and similar to what would be used for carbon nanotubes.
A BNNT Material Safety Data Sheet will be provided with all orders. Customers outside of the U.S. should check with their country specific safety and environmental requirements for working with novel nanomaterials.
Materials Safety Data Sheets
| | |
| --- | --- |
| BN content | >99% (refined materials) |
| Residual Impurities | Refined materials contain <1 wt.% elemental boron |
| Tap Density | Low, ~0.25 mg/cm3 |
| Defect density | Extremely low (BNNTs flex and recover when bent) |
| Band gap | 5.7 eV (direct measurement by low energy EELS) |
| Surface area | up to 400 m2/g (by multipoint BET) |
| Network | many isolated tubes, bundles up to 5 tubes (by TEM) |
| Number of walls | 1 to 5 walls are typical, 2 or 3 walls are most common (by TEM) |
| BNNT length | up to 200 μm (by SEM), longer suspected |